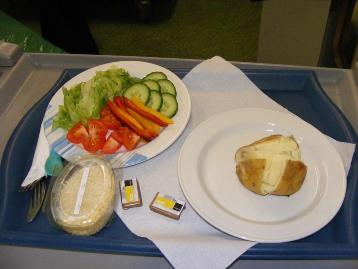 Eating well
Eating the right kinds of foods is important to everyone, especially when you are ill. Carefully chosen foods and drinks can help you to recover more quickly, but they need to be handled and stored in the right way, otherwise they can become unhealthy.
Keeping food safe
If food is not stored in the right way, it can cause food poisoning (sickness and diarrhoea) if it is eaten. Food poisoning is not nice for anyone to have, but it can be particularly dangerous to people who are already ill. So that we can help to keep our patients safe from food poisoning, the hospital has a number of rules (based on the Food Safety Act 1990) which we ask your parents, carers and visitors to follow.
Please do not bring in any food which needs putting in the fridge or freezing. The people who work at this hospital are not allowed to store, reheat or keep them in the fridge. Food brought in for you by your parents and carers must not be kept in the fridges in the parents' rooms.
There are some foods which are more likely to cause food poisoning,so we ask that your parents and carers do not bring them into hospital. These 'high-risk' foods are:
Take-aways
Cold meats
Soft ice cream
Eggs and dairy products
Puddings made with fresh dairy products like cream
Soft unpasteurised cheese and blue cheese
Pate
Shellfish
Long-life food
You will find long-life food on the shelves in shops and supermarkets, rather than in fridges and freezers. They have a long use-by date, which means they can usually be eaten a long time after they have been bought at the shops. Your parents and carers should choose long-life food which comes in separate portions, and tins with ring-pulls which are easier to open. These kinds of foods can be kept in your locker but should be eaten straightaway once they have been opened. Any food which hasn't been eaten should be thrown away straightaway.
Examples of long-life foods
Drinks made with UHT milk - these are good if you only feel like eating small amounts
Individual cartons of fruit juice with added vitamin C
Soya based 'milkshake style' drinks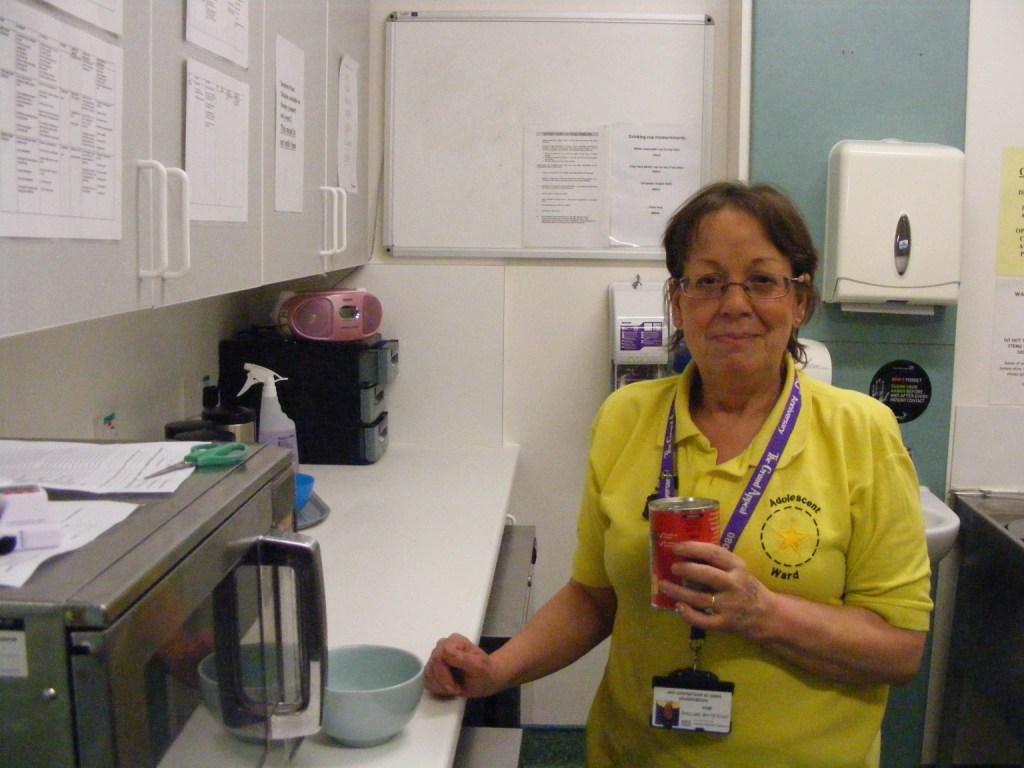 Examples of long-life puddings
Cream desserts
Rice pudding
Custard
Yoghurt
Jelly
Soya puddings
Other long-life food which can be brought in to hospital
Wrapped, washed fresh fruit or bananas
Small packets of dried fruit
Fruit cordial, squash with added vitamin C
Cakes, muffins, flapjacks, biscuits, shortbread
Chocolate bars, cereal bars
Small boxes of favourite breakfast cereal
Portions of sweet or savoury spread
Crispbreads, crackers, savoury biscuits
Cheese straws, crisps, cereal snacks
Helping you eat well to get well
When you come to hospital, you can expect the food we give you to be the right food to keep you healthy, and to be given to you at the right time. If your parents, carers or visitors want to bring extra food into hospital for you, please ask them to look at the list on page five which will tell them what foods are safe to bring in. They will need to let the nurses on the ward know if they are bringing food into hospital for you to eat.
If they bring any food into hospital for you, these foods should not be offered to other children in hospital.
Sometimes you will need to eat a special diet because your body cannot manage some foods. The nurses on the ward can give your parents and carers more information about this.
If there are some foods you do not eat because of your beliefs or your family do not eat them, please let us know.
Places where your parents can buy food
Dining room, level 5, Bristol Royal Hospital for Children
Vending machines, levels 2,3 and 5
WRVS Coffee Shop - level 2, Queen's Building, Bristol Royal Infirmary (BRI)
WRVS shop - level 2, Queen's Building, BRI
The Bistro - Old Building, BRI
There are lots of local shops within walking distance of the hospital. The ward staff or staff at the main reception can give your parents and carers information about how to find them. Your parents or carers will find tea, coffee and sugar in the parents' rooms, these have been kindly donated by Friends for Parents.
Please remember:
Don't bring in 'high risk' foods on page three
Don't reheat food and drink for patients on wards or in parents' rooms
Check and follow use-by dates
All left over food must be thrown away